Winter: time of year when you'd rather hibernate under the blankets than take your dog out for a walk.
It is a well-known fact, from December through March, the province's weather is not exactly tropical. Unless you're a snow lover or winter sports fan, the thought of going outside might not fill your heart with joy. As much as your dog probably likes to cuddle on those long cocooning days, he also needs to move to stay healthy and fit. The good news: even when the cold is unbearable and a storm is raging, it's possible to keep your pup active and happy in the comfort of your own home!

Hide-and-Seek Fun to Stay in Shape
A classic game that everyone loves … and your dog will be no exception. Hide in a room and call your pooch loud enough for him to hear you. Chances are, Max will run to try to find you. When he does, reward him with a delicious healthy treat and heartfelt praise. Do this a couple more times until his energy level winds down. Simple, isn't it? It will provide your companion with a good exercise session and will give you a break from walks in the frigid cold!

A Quick Run on the Treadmill When Temperatures Drop
In harsh weather, when even the dog hopes to stay in, why not share the treadmill with him. Yes, we know. Viral videos of people falling off that piece of equipment might come to your mind. As funny (hilarious is the correct word) as these are to watch, the last thing you want is for the same thing to happen to your fur ball. A few simple rules should make it a safe activity for your pooch. Set the treadmill to the lowest speed before putting your dog on it. Gradually teach him use to it. A few minutes at a time (with plenty of treats and cheering) are enough to start off. After a few sessions, your four-legged friend will probably get the hang of it! That means he will be able to walk the same distance as he usually does outside, without you having to freeze your toes.

Toys to Keep the Brain Active
In winter, your pup needs distractions to get his brain working! Hide treats in a room and let him try to find the hidden treasures on his own. Offer him toys like a Kong to make meal time a bit more challenging. It's important to keep in mind that when a dog is under-stimulated, it will find its own ways to fight boredom. However, your furry friend's solutions might involve chewing the legs of the antique sofa you inherited from your grandma. In other words, what seems like a good idea to him might not impress you. By hiding food or treats in toys, you are offering him a chance to stay stimulated and burn off all that extra energy. Of course, it keeps his mind away from the temptation to chew your couch!

A Winter Walk With Your Dog
While staying in is fun, it's nice to get out once in a while! A daily walk remains one of the best ways to keep your dog (and yourself) happy and in great shape. When temperatures drop below zero, you can walk at a faster pace but go for a shorter distance. With the right clothes, you'll probably even enjoy being outdoors. For tips and tricks on how to make the most of winter with your dog, read our article here. Playing in the snow is also an ideal exercise for your dog's muscles and general health. Throw a ball, a frisee or even snowballs that he can try to catch on the fly!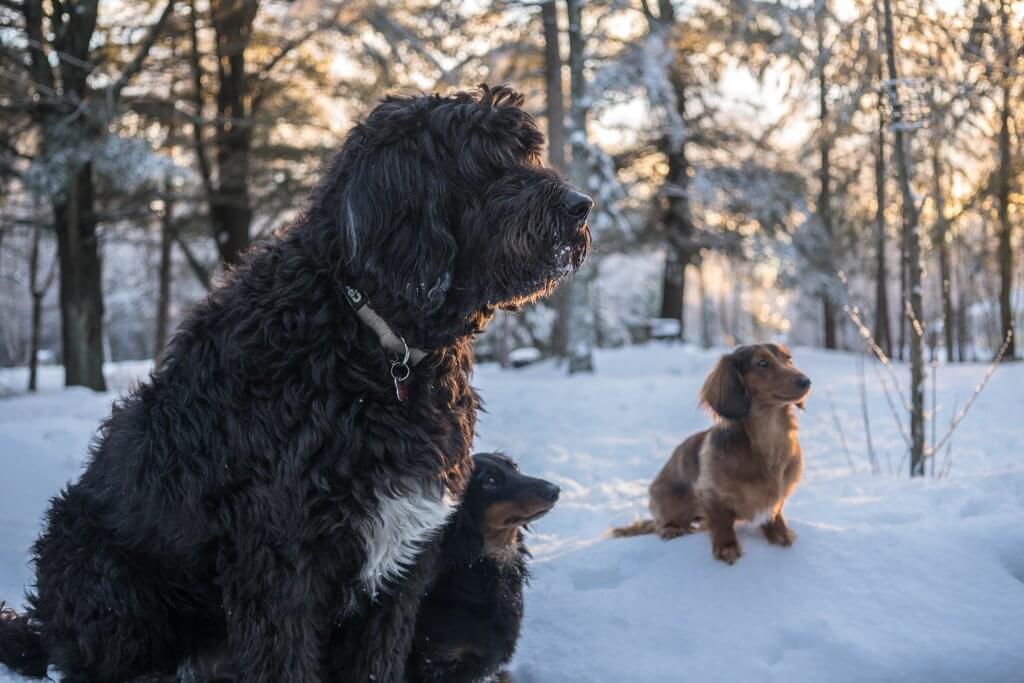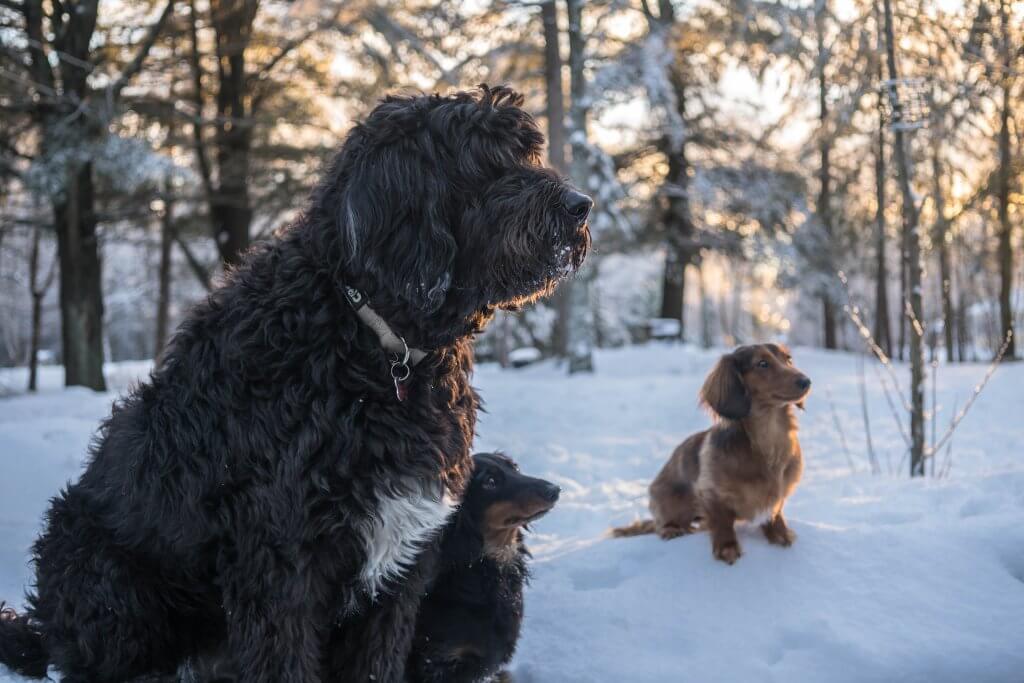 Winter Sports for Furry Friends
For winter enthusiasts (we admire you), why not bring your dog along on your adventures? Many breeds love snow and enjoy hiking with their human pal. Try canicross of a surprising session of skijoring. The important thing is to always respect your friend's limits. Be attentive to signs of discomfort. If your pup lifts his paws, licks them, shivers or whines, it's time for a well-deserved rest in a warm place. Don't forget to dry his pads and fur thoroughly. This helps eliminate rock salt residue, which is harmful for your dog. When the thermometer drops to extremes stay in! Maybe it's time for a hide-and-seek rematch. Have fun!